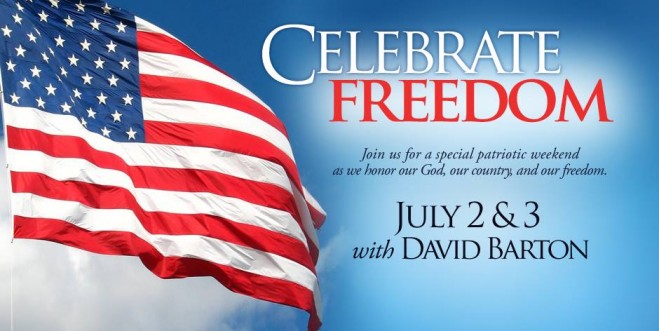 Sponsored by First Assembly of God 4701 Summerlin Road, Fort Myers, Florida 33919
239-936-6277  www.famfm.com
Saturday, July 2 – 7pm
Sunday, July 3 – 9:30 am and 11:30 am
Come join David Barton to learn more about what's happening in America's culture war today and how we can use history and the filter of God's word to impact our society. WallBuilders continues to reacquaint Americans with our forgotten history and heroes. In fact, WallBuilders now has several made-for-tv series (American Heritage Series, Building on the American Heritage Series, and Foundations of Freedom) that can be found on their website or seen on stations such as Daystar and TBN. They also have a daily radio show (WallBuilders Live!) that you can hear on stations across the country or download from our website (www.wallbuilderslive.com).
David Barton, in my opinion, is the foremost authority on the moral and religious foundations of our national constitution and history. David is the author of numerous best-selling books, with the subjects being drawn largely from his massive library of tens of thousands of original writings from the founding era. He also addresses well over 400 groups each year.
In 1803, the Reverend Matthias Burnet warned, "Let not your children have reason to curse you for giving up those rights and prostrating those institutions which your fathers delivered to you." "It is the forgotten past that enslaves us." – C.S. Lewis
Please join us in Fort Myers, FL for David Barton's riveting presentation on our nation's moral and religious founding, learning more about America's Godly heritage.
Hope to see you there!
Blessings, Tom Hughes
[email protected]
"In all your ways, acknowledge Him…" Proverbs 3:6