The Salt and Light Advisory Council of Collier County's press conference and rally that occurred on Tuesday 6/14/16 prior to the CCPS Board meeting regarding the Obama administration's "Dear Colleague" letter regarding the transgender bathroom issue is included in its entirety below. Click either the picture or link below to view the video. Then compare the news reports from the three local major broadcast networks from the links provided below.  Consistently off the mark.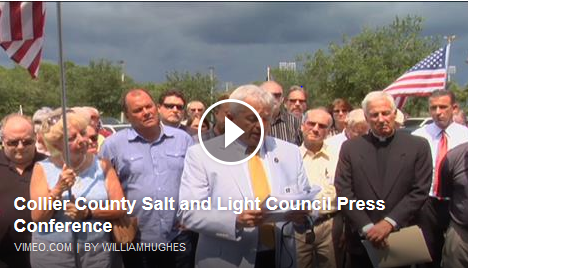 Collier County Salt and Light Council Press Conference from William Hughes on Vimeo.
We want to thank the members of the Salt & Light Advisory Council of Collier County who initiated this event.
3 Major broadcast networks – video news coverage:

http://www.winknews.com/2016/06/14/collier-school-board-discusses-federal-transgender-mandate/
http://www.abc-7.com/clip/12527045/collier-school-board-to-discuss-controversial-transgender-policy
http://www.fox4now.com/news/collier-school-board-tackles-transgender-restroom-issue
Of the community, 33 individuals registered to speak up about the transgender bathroom issue during the "public comment" portion of the Collier County Public Schools Board meeting. As is the case across our nation, the speakers were evenly split. About 50% stood for the protection of all children, the integrity of the local school systems, and the proper Constitutional order making the states and local communities the appropriate arbiters of what is right for their public schools.  These speakers implored the CCPS Board to formally reject the DOE's "Dear Colleague" letter and adopt the Resolution to Protect Student Privacy (see previous post). The other 50% of the speakers, who mainly represented the LGBT community, supported this special policy to accommodate far less than 1% of the CCPS. It was noted that there are only 20 known individuals who identify as transgender in a school system of 45,000 students.
Near the very end of the 7 1/2 hour school board meeting, there was a "information only" session held titled "Transgender Status Issues Discussion" where the school board's attorney, Jon Fishbane, provided the CCPS Board members the comprehensive legal precedence to date. The expectation is that this issue will be presented before the Supreme Court fairly soon.  The appellate 4th Circuit court in Virginia has already ruled in favor of the transgender policy. In conclusion, Mr. Fishbane recommended, because he believes that the CCPS system's policies to accommodate transgender individuals on a "case by case" basis already complies with the transgender guidance letter from the White House administration, it is prudent to wait until it is resolved further through the court system before revising the CCPS system's current policies.
The entire CCPS Board meeting was broadcast live on the local Comcast Education Channel 99. It will be replayed in its entirety Saturday, June 18 at noon and Sunday, June 19 at noon. More events will follow, to be sure.
Blessings, Tom Hughes
[email protected]
"In all your ways, acknowledge Him…" Proverbs 3:6